Belonging to Halton Borough Council, Daresbury Firs is community woodland in the heart of The Mersey Forest. It was designed to balance wildlife and recreation value with timber production… as well as looking stunning in the sunshine of this brilliant October day.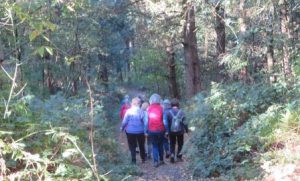 This is where Whitley WI started their walk, led by volunteer leader Rita…. Where was Ann?
I'll not tell you she was cruising!
The Bridgwater Canal was reached, with its many hump-backed bridges.
Other groups were enjoying the weather and we waved as they floated past on a canal barge….Thinks!! "May be our walking group should hire one and wave at other walkers"… An idea for the future.
Views all around showed off England's Green and Pleasant Land to perfection.
Around the corner we noticed hundreds of ducks and swans…the reason was soon revealed… A lovely lady, with a matching smile, was feeding these birds. They obviously knew her, and she explained that she goes there every day, with a shopping-trolley full of bird food…spending far more on the birds than on herself. It was delightful to chat to this lady, who happily agreed to have her photo taken with us and the birds…her smile was even broader after this unexpected encounter.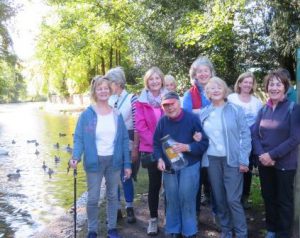 The walk continued back towards Daresbury Village, through the fields that six weeks previously, had been the supper muddy "Creamfield's Music Festival". The grass had regrown… nature does repair itself, and the munching sheep were suitably happy.
Thanks this month go to Rita for sourcing a truly interesting walk, as well as booking the Ring O'Bells for an enjoyable lunch to finish off the morning.