December 2017
 Christmas Party
Although a major part of the roof at Whitley Village Hall is being replaced at the moment, this did not deter Whitley WI Committee putting on a great Christmas Party using one of the other smaller ro
oms and the hallway. A glass of wine was enjoyed, as well as a home produced buffet by Pat Sharp with help on the night from the committee who also donated desserts. There were lots of fun and games and the evening ended with a few carols and a free raffle.  Some of members even said it was one of our best Christmas parties.
Sadly at this meeting we announced that three of our committee members were leaving the committee: Ann Brock and Lorna Bettles who had been on the committee for two years and our Hon Secretary Pat Sharp. Pat Sharp has been on the committee for the last six years and for three of those years she was President. This year Pat trained to be a WI Adviser and has left the committee so that she can settle into her new role. Our President thanked them all for their hard work and especially Pat and her amazing catering skills. We presented her with a new pinny.
January Meeting
At our January meeting we had Zeta Emmett, a representative from ACWW (Associated Country Women of the World), give a talk on the work that they do. This organisation is committed to raising the health and standard of living of rural women and their families in the developing world. The Cheshire Federation of WI's work together to support ACWW across all it's WI's. Each WI in Cheshire has a 'Pennies for Friendship' box or jar for WI members to donate any loose change that they want to give to this organisation. At the moment the ACWW are asking for unwanted foreign coins and notes (even old pound coins) which are collected at Zeta's talks, at Federation events or can be taken to the Cheshire Federation office in Chester. Money was collected that evening and given to Zeta.
All the ACWW projects are well securitized to be sustainable. An example of one of their projects was to raise the standards of living for young mothers (18 – 22 years of age) who had two children. The way this was achieved was to supply a goat house and goat. The goat was to provide food for themselves and any surplus would be sold. The profit from sales would eventually buy another goat for other young mothers. Also they would use the manure from the goat to help grow vegetables.
Sue Bentley MBE, our Cheshire Federation Climate Change Ambassador, also came to our meeting.
She came to present Ann O'Brien with a prize for the photograph she had taken of Susan Burtonwood's purple wellies at Abbots Moss Reserve of a quaking bog. The prize was a Ladybird book in their 'Ladybird Expert Series for Adults' called Climate Change. This was written by Prince Charles with the help of Tony Juniper and Emily Shuckburgh and is a simple guide on the subject.
Whilst Sue was there she informed us about an event at Runcorn Shopping City on Saturday 3rd February which seeks to inform people how to make small lifestyle changes that will go on to have a positive outcome regarding Climate Change.
Later Mary Highmore discussed with us the WI 2018 Resolutions which are laid out in more detail in the November / December issue of WI Life. The resolutions are:
Positive body image in a digital age
Stop Female Genital Mutilation (FGM)
Raising awareness of modern slavery in the UK
Mental health matters
Healthier mouth, healthier body.
Those of us who hadn't voted, via the WI life, for what they would like the WI at National level to campaign on, were asked to vote using the ballot papers provided that evening.
With such a thriving WI there was as usual lots of news of forthcoming events. On the 1st February we have our Whitley WI 80th Birthday Meeting at Warrington golf club and on the 9th May we have a trip planned to Llangollen. On the 24th Feb there is an event at Byley village hall titled Cheshire Show 'Hints and Tips', for anyone thinking of making an entry at next year's show. On March 22nd there is a group meeting titled 'Life of Paradox' at Whitley Village Hall, which Susan Burtonwood made sound very intriguing?
As always we want to try new ideas so we had an 'expression of interest' sheet to see who would be interested in there being a gardening group and a craft group.  We were also given a slip of paper each to add our own ideas for events, speakers etc. on. These slips will be collected at the March meeting. Somebody has also suggested 'walking netball'.
September 2016
After singing Jerusalem Joan Blackshaw our President thanked everyone for the get well cards, presents etc. which she received after her recent illness.
Joan read out a letter of thanks from class 3 at Whitley Primary School for 'Science of Plastics' event organised and run by Pat Sharp our Secretary. This was a very fun 'hands on' event with some of our members going along to lend a hand.
We decided that the proceeds of our June raffle would go to the Saving Denman fund. There is going to be a concert by the Weaver Valley Choir on 21st October at Winsford Academy to raise funds for the WI Denman College in Oxfordshire and Helen Carey has agreed to hold a fund raising garden party next year.
The Whitley Village Show is on Saturday 17th September. Volunteers are needed and some of our WI members will be giving out prizes.
Sue Burtonwood reminded us of our group meeting at Preston Brook on 27th October titled 'Tea Gowns and Tea Time', at a cost of £4.50.
There is going to be Public Affairs meeting on 11th October (2pm -4pm) in Nantwich. The theme being 'Where does the WI go from here?' Carrie de Silva LLB (Hons), MA, PGCE Principal Lecturer at Harper Adams University and member of Bridgemere WI will talk about the ethos of the WI pioneers and its resonance to women today. Visitors pay £3.00 on the door.
Our Culture Club meeting will be at 7.30pm on 4th October at the Birch and Bottle where we will be discussing which shows we want to book next.
We have a visit to the Anderson Boat Lift on 18th October.
At 7.30pm on 20th October at Lorna's house, we have a meeting to discuss our knitting for dementia project. We will be deciding which care home to supply our Twiddle Muffs to?
Janet Pattinson will be collecting any unwanted pairs of glasses and taking them to Mullins the opticians in Stockton Heath for the Lions Club to collect.
Ann O'Brien informed us that her next walk on 6th September starts Beacon Hill car park near Frodsham.
We then had a very heart warming and enlightening talk from Whitley village resident Amanda Glennon entitled The Ups of ''Downs''. Amanda has twins; a boy and a girl. The girl has Downs. Amanda is very involved in supporting her own daughter's special educational needs and that of other children with special educational needs. She has set up a Community Interest Company called 'Inclusive Teaching (IT) Matters' which provides training in such things as Makaton (a sign language) , Numicon (a mathematical learning tool), and creative solutions for the inclusion of special needs children into mainstream education. She is also co-founder of the Cheshire Down's Syndrome Support Group, which supports parents and tells them that 'it's going to be OK'; encouraging Down's Syndrome children's independence with life skills and friendships.
It was then time for tea and refreshments and a chance for our members to have a chat. Another enjoyable evening.
For further information on Whitley WI go to our website at whitleywi.org.uk
July 2016
Joan Blackshaw our President started our July meeting with a news update. Our joint meeting with Dutton WI at Preston Brook in June was a success and we managed to raise £80.00 for the Save Denman Appeal. The Cheshire Show was enjoyed by many of our members despite the rain. Joan thanked the members of our Whitley WI team that produced the wonderful African themed entry in the 'Far Horizons' category.
Joan then talked about the various projects that she and others have recently started.
Susan Burtonwood is putting together a collection of our member's memories and thoughts relating to the WI Denman College in Oxfordshire; somewhere many of our members have visited and many have taken part in numerous courses that are on offer there.
Sally Riley is putting together a WI scrapbook of our events and activities for year and this was on display as work in progress for us to look at.
Susan Burtonwood is compiling a folder of member's memories which includes the WI choir that a many of our members were involved in some years ago.
Joan told us that her Knitting project – Knitting for Dementia Sufferers was going well. On display were examples of people's work and copies of knitting patterns for our members to use.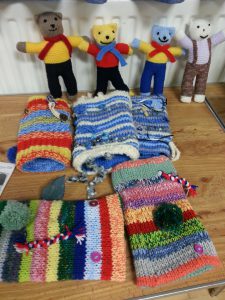 We are also collecting old pairs of glasses from our members in the hope of sending them to a charity.
We then had a talk by Judy Popley about the Arley Hall estate. Whilst working there she was contacted by a descendant of one of the Hall's gardeners who worked at Arley in the late nineteenth century. This gardener had been a keen photographer and had left his family a wonderful collection of photographs of the estate and the staff. As Judy had also taken many photographs whilst she worked there she was able to give us an interesting slide show contrasting the two sets of photographs to show us the changes that had taken place.
After our tea break Pat Sharp gave us a quick look at our new website at www.whitleywi.org.uk . She showed our members how to navigate the different pages and see the latest information that has been put on it.
June 2016
Lancaster Visit
On 18th May we had a marvellous outing to Lancaster, which was organised by Ann Tolson, Ann Brock and Lorna Bettles.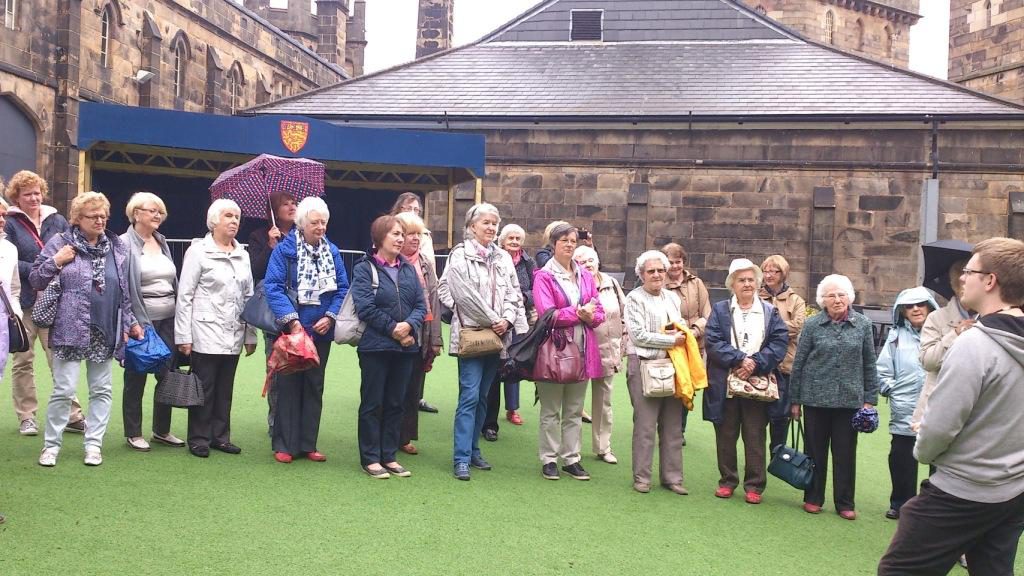 It started with a visit to the castle, which is owned by the Queen; she is the Duke of Lancaster. On arrival tea and coffee was served in the café followed by a very enjoyable and informative guided tour of the castle which at one point had our members locked up in a dark prison cell for about fifteen minutes. In true WI spirit our members started singing Jerusalem! What else would you expect??
There was then free time to explore the town and have lunch; for example some of our members visited the Lancaster Museum where they enjoyed the Morecambe and Wise exhibition.
At 3pm the bus came and took us to the Butterfly House at Williamson's Park and the huge memorial built by Lord Aston the industrialist who made his fortune making linoleum. From this view point we had a wonderful view of Morecombe Sands and the Cumbrian Mountains.
The sun shone all day and we sat outside for coffee and ice creams before leaving for home. A perfect day out.
Joan Blackshaw (President)
Queen's Birthday Celebration
On 2nd June we had a very memorable evening celebrating Queen Elizabeth's 90th birthday. Whitley Village Hall was transformed into a majestic patriotic party house with Union Jacks fluttering from all the beams.
We were entertained with music through the ages, sat at tables named after royal residences, drank prosecco and ate luscious cakes and neat sandwiches made by some of our members.
The Royalty Quiz was won by the St James's Palace team. Ann O'Brien deservedly won the "best crown" competition.
A Royal Cake was made and cut by Dorothy Thompson, our event organiser, who had also sourced the best raffle prizes ever.
President Joan, proposed a toast to the Queen, and we all sang Happy Birthday.
Pat Sharp (Secretary)
May 2016
At our monthly meeting on May 5th we had an interesting talk by William Boyce titled 'Lifeboats and Lifesavers. 'His talk took us from when the RNLI was founded on the Isle of Man by Sir William Hillary in 1824 until the present day. Now they use state of the art equipment and boats but in the beginning things were so very different for the brave lifeboat crews. Although not part of the RNLI he told us of the bravery of Grace Darling, the Lighthouse Keeper's daughter, who in a rowing boat famously helped save lives from a shipwreck in 1838. Surprisingly after this rescue it was still thought that women in the crew would bring bad luck, and the RNLI policy of not allowing women to be crew members persisted for a very long time. However from the early days, women were very much involved with getting the lifeboats launched, and they must have been very strong women as this was long before the introduction of tractors. It was not until 1981 when the RNLI finally got their first woman crew member on a sea going all-weather lifeboat. Since then many more women have become crew members.
As usual we discussed our latest events, news and projects at our meeting.
'Bring Your Bling' is an ACWW (Associated Country Women of the World) fund raiser for their various worldwide projects. We are encouraged to collect any unwanted broken or intact jewellery which can be taken to the Autumn Council Meeting later this year to be sold.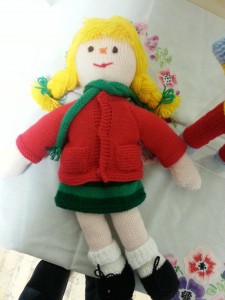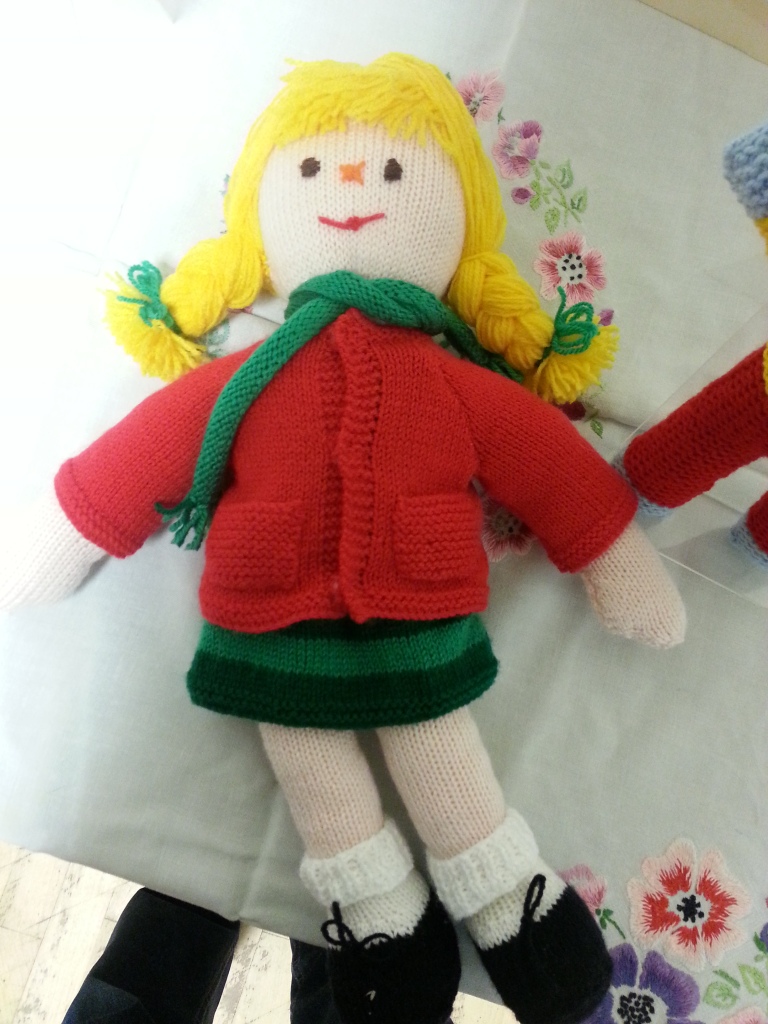 Joan Blackshaw and Pat Gaskell are starting a knitting to improve the lives of others project. They plan that we knit for people with dementia. Susan Lynch knitted a doll which we sold that evening for £10 to Virginia Butterworth. With the proceeds Pat and Joan plan to buy wool for the project. Some of our members have now started knitting teddies, pandas and bunnies and at their May 11th project meeting patterns were swapped and discussed.
We are looking forward to our Queen's Birthday celebration on June 2nd, which has a red, white and blue theme. We encourage people to make a crown to wear on the day. A prize will be given for the best one. We also have our Lancaster Trip on 18th May starting with a guided tour of the castle and concluding with a climb to the top of the Ashton Memorial with its wonderful view over Morecombe Bay.
It was announced that next year there will be a WI calendar which can be ordered for £3.20 at our July meeting. A diary is also available for £4.50.
Our next meeting on June 14th will be a joint meeting at Dutton with Dutton WI. It will be a Japanese Evening.
We asked for volunteers for the Whitley Rose Queen on June 11th.
Our next walk on May 10th starts at the Leigh Arms, going along the Trent Mersey Canal to Lodge Lane, down through the wood and across field paths to Dutton Locks and back to the Leigh Arms via the River Weaver/Acton Swing Bridge.
At the end of the meeting Mary Highmore collected our votes for our two WI Resolutions to be taken to the Annual Meeting in Brighton in June.
April 2016
April's meeting was our once yearly 'members night' when the committee hand over proceedings to a randomly selected few of its members. This year it was headed by Melanie Barber and Pat Gaskell who did us proud by organising Roger Pace from Stanways Bakery in Whitley to give us a talk. Originally from Whitley and with roots in farming he was in Grimsby when he decided to return to take over this local bakery from his aunt and uncle. The bakery was situated in Antrobus at the time but soon Roger moved it to 'the garage' at Village Farm in Whitley. He gave us an interesting insight into the workings of a small bakery in our community buying local ingredients, selling locally and providing local employment. Luckily he brought many of his tasty pork pies and millionaire's shortbread for all of us to sample.
On Wednesday 13th April 2016 Joan our President said that she would be visiting the Bee Garden in Whitley in order to do some overdue maintenance and encouraged any members to join her on that day. The Bee Garden came about and was planted with bee friendly plants in 2011 by our WI after concern about the decline of the honey bee population. However last year there were very few visitors and no weeding etc. has taken place. Action needs to take place or we will have return this land to Whitley Parish Council.
Nora Mosedale one of our members who is talented in calligraphy has produced a card to send to our Queen on her 90th birthday. This was on display that evening for our members to view.
Joan discussed our new web-site which we are developing at www.whitleywi.org.uk .  She encouraged us to look at and give content suggestions.
We had received a letter from the son of Irene Sandham who was a Whitley WI member but is now 93 years old and living in Swanage. Her son Richard explained that she had a cassette from 1987 with songs sung on it by the Whitley WI choir. Unfortunately this cassette has now broken and he has asked us if we could supply him with a copy. Fortunately two of our members had copies of the recording and one has now been sent to Irene.
There is much to look forward too at Whitley WI including our trip to Lancaster in May and our Queen's Birthday celebration in June. Other dates for our diaries were discussed.
Joan informed us that cakes were needed for the Cheshire Show in June and asked if any of our members wanted to put their name forward to be a WI Independent Financial Examiner.
We were encouraged to read our WI Life magazine regarding the WI resolutions as we will be voting on this at our May meeting.
There is now have an official complaints procedure. Complaints should go to our secretary. However if the complaint is about a committee member then then the complaint should be sent to whole committee.
We then had time for tea and chat. Nancy Coates won the competition titled 'rolling pin'
March 2016
As the new Press Officer for Whitley WI it is a daunting task to try and capture everything that takes place at our monthly meetings as there is so much going on for our members to take part in. This I hope this will give you some idea and my apologies to those I have left out.
Joan Blackshaw our President welcomed our members and guests and led us in singing Jerusalem.  Dorothy Thompson then took over the reins to inform us of our forthcoming event on June 2 to celebrate the Queen's 90th birthday. An evening of refreshments, music and a quiz amongst other things. There will be a small charge and tickets will be available in April.
Pat Sharp was next and she updated us on the 'Clean Up for the Queen' event that was taking place in Whitley Village on Saturday March 5. Tea and biscuits were to be provided in Whitley Village Hall for those taking part in the tidying of the village.  Pat then discussed the Cheshire Show in June and how our members and Whitley WI could take part in this. She also listed events, outings etc. other than those organised by Whitley WI that our members could participate in as members of a WI in Cheshire. These included a meeting for new Cheshire WI members at White Friars in Chester on May 5 and May 19 and a Village Group event to Blenheim Palace.
Ann O'Brien did a quick resume of our finances, which with her good management are looking good, and gave us details of our next Whitley WI walk on March 8 which was to start at Alvanley and would follow part of the Sandstone Trail.
June Smithers reported that the WI resolution to provide facilities to enable carers to stay with people with Alzheimer's disease and dementia that have been admitted into hospital, is to be one of two resolutions that will now be put to a vote of delegates at the 2016 Annual Meeting in Brighton. She compared this with how the WI had campaigned in the 1950's to allow parents to visit their children whilst they were in hospital.
June then told us that nationally the ACWW's 'Pennies for Friendship' collected £28,000 last year for the Cameroon and that
this year £12,000 had already been collected. A collection box is always available at our monthly meetings for our members to donate any loose change that they wish.
Sue Burtonwood told us about the WI Village Group activities which included a fund raiser on May 9. A Bring and Buy sale of women's accessories where everything costs a pound. The sort of event where I might buy more than I take?
Ann Tolson invited us to sign up for our May outing to Lancaster which will cost no more than £25.00. This includes tea and coffee on arrival, tour of castle, free time in the town for your own lunch not provided and then in afternoon to Williamson's Park, Butterfly house and Dome and Viewing Platform.
After being informed of numerous other Whitley village and Whitley WI activities we handed over to our speaker for the
evening. This was Jane Allison whose talk was 'Making the Most of Your Garden' Jane is a garden designer from Middlewich who talked us through with the aid of colour slides some of the designs that she had worked on for clients. These included designs for difficult sites and she showed us examples of hard landscaping as well as the plants that were used. Hopefully this will have helped and inspired our members with their own garden projects.
After this it was of course time for our tea and refreshments. An excellent spread as usual provided by our members on that evenings Tea Rota. A good time to have a chat sign up for events, buy from the trading table and look at the exhibits on the completion table. At this meeting we were invited to bring 'A Gardening Aid or Hint'.
February 2016
At our February 4th meeting Whitley WI celebrated to the day its 78th birthday. This was marked by Joyce Barber a long standing member of 48 years cutting a beautiful cake made by our very talented Ann O'Neil.
After we discussed this year's WI Resolutions and the many and varied activities to look forward to in the coming months we welcomed Derek Poulson who gave us a talk on Regional Accents. He was able to talk us around the country in these accents and gave us a history as how they came to be at the same time.  It was extremely entertaining and humorous. His love of accents originated from when as a 16 year old lad from a Yorkshire mining village he went to drama school where studied with people from all over the country.
Our next meeting will be on March 3rd at 7.30 pm at Whitley Village Hall, when we will welcome Jane Allison to give us a talk on 'Making the most of your Garden'
Please see our website at whitleywi.org.uk for further details of our forthcoming events.