Have you a hobby that you could share with a group of ladies that would like to know a little more than just stitching and knitting .
Our craft group meets at WVH  on the third Wednesday of each month from 1.30p.m. until about 3.45pm.  Please note there is no meeting in August 2019.
To see the detailed calendar click here.
Since our first gathering in May 2018 we have learnt quite a lot from each other. We have all done knitting and stitching, made silk table arrangements and used our garden lavender to make lovely little lavender bags. We have also made craft items for fun and enjoy seeing ideas that ladies would like to experiment with.
The Cheshire Federation do run their own courses on lots of craft subjects. Several members have found them great fun and very friendly and amazed at what can be achieved in just a day. Why not come along, we are a happy bunch of ladies all enjoying a cup of tea and a natter whilst learning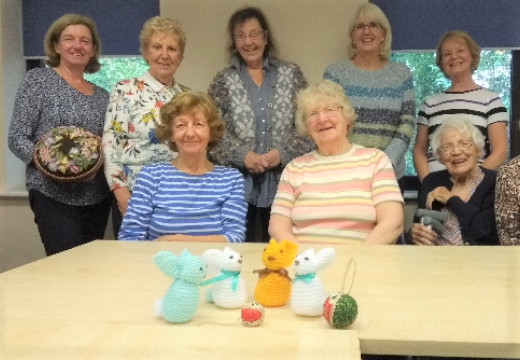 Report of the craft group held January 16th 2019
The first meeting of the new year and 12 crafters arrived to enjoy the afternoon including a new lady, Val H who it would appear is a very capable crafter and has lots of enthusiasm.
Our new time of 1.30pm has been accepted by everyone. This not only means that the 'school run' is easier but a craft group key holder is not necessary as the play group is only just finishing.
Ann our Cheshire show rep came to give us the run down and theme for this years show. (The silver screen). Enthusiasm was shown by most members for individual crafts and a combined entry. Ann will be reporting and combining efforts in due course.
Chris J had been in touch with the Rose Queen organiser to see if it was possible to have a stall in June at the event to sell our home made wares as well as encourage membership. She suggested that a tea towel should be printed and ideas were heartening. She awaits a call from the Rose Queen organiser.
Annette then brought up the idea of a long term project for the craft group as a whole over the next twelve months. Several ideas were forthcoming, but bearing in mind it will be a busy year with the Cheshire Show and perhaps the Rose Queen event we shall think hard before committing ourselves.
Annette will be in touch with Anne to see if she would be interested in doing a cake decorating afternoon.