Walking Group
SORRY TO SAY THAT DUE TO CONCERNS ABOUT THE CORONA VIRUS THE APRIL WALK IN THE PEAK DISTRICT IS CANCELLED
We like going for walks together at Whitley WI.
Here are a few of them.
January 2019 – Whitegate Way
Our January walk on a bright cold and sunny day took us along the Whitegate Way.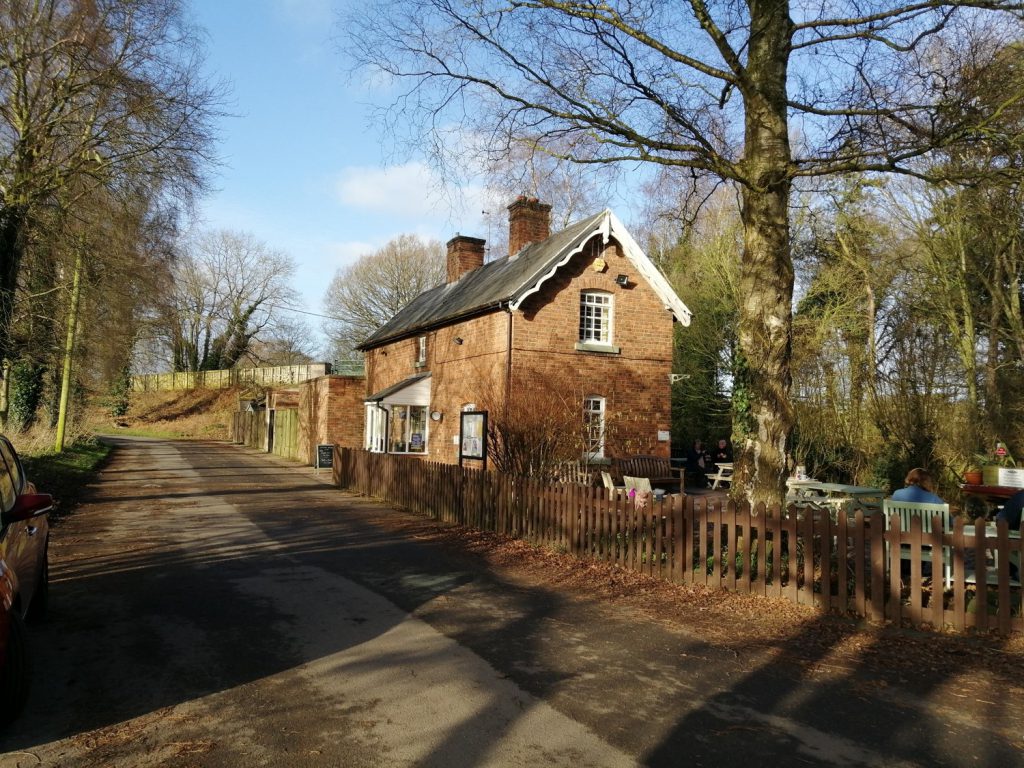 We started at the old railway station which is now a coffee shop and walked North West along the old disused railway line to just past Kennel Lane Bridge as you can see on this map.
Afterwards the eight walkers were joined by three other WI members for lunch at the Plough at Whitegate.
A very enjoyable walk to blow the cobwebs away after the excesses of the festive season. Once again thanks to Ann for organising both the walk and the good weather.
December 2018 – Great Budworth
A bit of morning drizzle mist, didn't deter the dozen members of Whitley WI who eagerly met for the December Walk or was it the chance to choose our lunch at The George And Dragon in the beautiful village of Great Budworth before we set off?
Our group tramped and trudged through winter fields, squelched our way through gate ways, and climbed over monster styles.
The views were stunning and happy chatter accompanied the great feeling of being outside in the fresh air. The route was changed several times when areas got boggy, and alternative ways were found. Ann's map helped with this, as did Rita's extensive knowledge of the area.
Whitley WI walkers are never beaten…. that's what we always thought! So seeing a sign saying "Road Closed", we paid no attention… however this road really was closed. It had been undermined by the local badgers, and construction workers were digging a hole to make a permanent badger tunnel…. so we headed back, and finding a gate to climb over (not very elegantly) we all made it safely back to the car park and lunch at the George and Dragon.
The end of a splendid year of walks, and all thanks to Ann for her untiring committment to research walks, making sure we enjoy a huge variety of different Cheshire areas.
October 2018 – a lovely encounter
Belonging to Halton Borough Council, Daresbury Firs is community woodland in the heart of The Mersey Forest. It was designed to balance wildlife and recreation value with timber production… as well as looking stunning in the sunshine of this brilliant October day.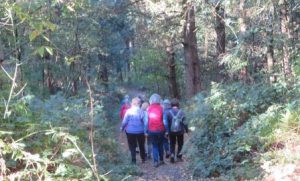 This is where Whitley WI started their walk, led by volunteer leader Rita…. Where was Ann?
I'll not tell you she was cruising!
The Bridgwater Canal was reached, with its many hump-backed bridges.
Other groups were enjoying the weather and we waved as they floated past on a canal barge….Thinks!! "May be our walking group should hire one and wave at other walkers"… An idea for the future.
Views all around showed off England's Green and Pleasant Land to perfection.
Around the corner we noticed hundreds of ducks and swans…the reason was soon revealed… A lovely lady, with a matching smile, was feeding these birds. They obviously knew her, and she explained that she goes there every day, with a shopping-trolley full of bird food…spending far more on the birds than on herself. It was delightful to chat to this lady, who happily agreed to have her photo taken with us and the birds…her smile was even broader after this unexpected encounter.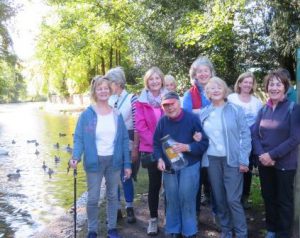 The walk continued back towards Daresbury Village, through the fields that six weeks previously, had been the supper muddy "Creamfield's Music Festival". The grass had regrown… nature does repair itself, and the munching sheep were suitably happy.
Thanks this month go to Rita for sourcing a truly interesting walk, as well as booking the Ring O'Bells for an enjoyable lunch to finish off the morning.